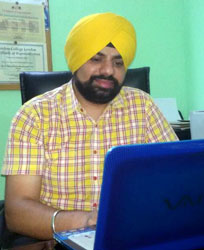 "It is our responsibility to know each country very well, before we start providing consulting services to our client. So we make it a point to personally visit the various nations, meet the department officials and trade professionals, get an insight into immigration procedures and laws and then counsel our clients."
-Mr. Jasmeet Singh
(Founder and Director)
As said by Mr. Singh, this is the business philosophy of the organization which he has ensured that the team follows. Jasmeet Singh's past travels have taken him to many countries including USA, Canada, Taiwan, China, Hong Kong, Singapore, Dubai, Abu Dhabi, Thailand amongst others.

Mr. Jasmeet Singh is one of the pioneers of Immigration consulting in India, having founded the company in 2005. Since then, he has been a part of thousands of immigration and visa application filings for various countries. Over the years, he has gained a deep insight into the various laws and procedures regarding Immigration. More so, he has an excellent understanding of its practical approach. His excellent knowledge skills that he has gained from past precedents on application processing under various circumstances are another key factor of the company's success. Since, Immigration refers to law, nothing can beat experience!

During each counseling session, Mr. Jasmeet Singh does a personalized assessment of each profile and offers advice on matters such as career and job prospects, post visa issues of importance, the right place to relocate to in a specific country, how to look for a job post landing and finally, which country is the best option considering an individual's background.